A report released by the Western States Petroleum Association details the substantial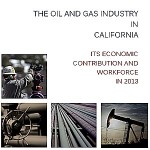 contribution the petroleum industry makes to California's state and local economies, accounting for nearly 456,000 jobs, hundreds of billions in revenues, and more than 9% of the state's gross domestic product.
Those figures form the core of a new 76-page report by the Los Angeles County Economic Development Corporation (LAEDC.) The analysis, drawn from public data on employment, taxes and business activity, show the industry is a major economic engine for the state.
In 2013, the most recent period for which data are available, the oil and gas sector accounted for $38 billion in wages and salary, $204 billion in output and $72 billion in value added. It produced tax revenues to federal, state and local government of well over $37 billion.
In releasing the report, WSPA called on policymaker to consider the industry's importance as a creator of jobs and economic activity when the evaluate proposals to restrict oil and gas production.
The industry has been the target of "fear tactics and attempts to limit consumer accessibility through infeasible legislation," said WSPA President Catherine Reheis-Boyd.
"Before making decisions that could reverberate throughout the economy, state and local policymakers should first consider what is at stake – real jobs, hardworking men and women, valuable revenue, tangible economic opportunity, and sizable investments in local communities," she added.
Employees in the industry earn an average of over $118,000 annually, more than double the average of all private industry wages in the state.
About 30% of industry employees have a college degree or higher, about the same portion have some college, and about a third have a high school diploma or less.
The workforce is ethnically and racially diverse, at 51.5% white, 27.1% of Hispanic origin, and 13.3% of Asian origin. Almost a third of the workforce is female.